About Us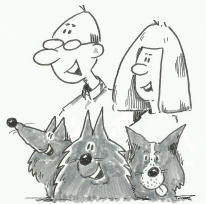 Devildog Graphics is a small business based in Cornwall and run by Steve and Peta who have worked in the design and print industry for more years than they care to remember! Originally producing designs for ourselves we were then asked by friends to produce some designs for them and as they say from little acorns...
Steve's interests cover most thing mechanical, planes, trains, cars etc while Peta's interests are mainly of the horticultural variety but our one common interest is dogs.
Between us we have had dogs all our lives, and in the last twenty years or so have been involved with competing in agility and breed shows achieving success in both areas.

Our present 'crew' consists of Riley and Ellie the Belgian Shepherds, and Kenzi our rescue collie the actual 'Devildog' himself!